« May 2005 | Main | July 2005 »
June 30, 2005
Blogger's Roundtable at ALA

Pic by Michael Stephens
I had intended to blog ALA coverage more or less 'live' as I attended sessions, really I did, but that didn't happen for a couple of reasons. First, internet access wasn't readily available without having to pay at each of the numerous hotels where sessions were taking place. Second, being a first-timer, I found the whole thing a bit overwhelming. With the constant shuffling between downtown Chicago hotels in some of the most oppressive hot and humid heat I can remember (it was a delight to come back to the 105 degree desert!), I barely had time to eat (thanks though to Meredith and Adam for introducing me to Chicago-style pizza - the spinach pizza was unbelievably delicious!) and catch my breath, let alone the wherewithal to pull some halfway intelligent observations together.
Last Friday afternoon was the official start of the conference for me - and what a way to set the tone! A few bloggers (see pic below) got together for some conversation about such things as how our blogging endeavors have affected our professional and working lives, how blogging has impacted upon the way we collaborate, the relationship between our blogging efforts and our respective institutions, and even if blogging is or should be considered in the tenure process. It should appear in Library Journal sometime toward the end of the summer, so you'll be able to read all about it there.
Like Meredith, I was just a bit star struck. It was truly surreal. I chat with some of these folks on a semi-regular basis, but seeing everyone f2f was, hmmmmm, a bit weird but in a really great way. I came away from the roundtable with a sense of solidarity and enthusiasm not just as a fellow blogger, but also in terms of the thoughts and ideas about libraries and services that flowed freely and easily throughout the discussion. It was wonderful, and I look forward to continuing the 'virtual collaboration' in the blogosphere.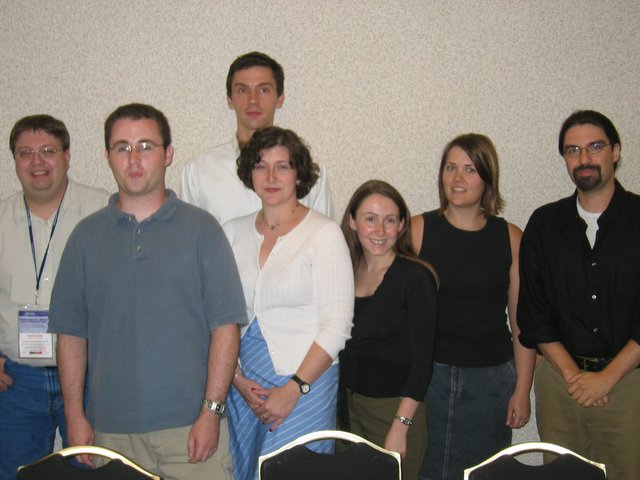 (From L-R: Luke of lbr weblog, Chad of Hidden Peanuts, Aaron of Walking Paper, Laura of
Library RFID, Meredith of Information Wants To Be Free, me, and Michael of Tame the Web)
I'm co-opting Meredith's picture becuase my camera is not cooperating at the moment - argh!
Little did I know this was only the beginning of bloggin' good times at ALA . . .
Technorati Tags: ALA2005
Posted by Sherri at 5:05 PM
June 29, 2005
Music meme tag
Library Web Chic tagged me . . . so here goes . . .
Total volume of music on my Mac:
8 GB . . . with more sitting on a drive in Toronto that hasn't migrated down here with me yet : )
Last CD I bought:
Ryan Adams & The Cardinals :: Cold Roses
Last song bought on iTunes:
California Stars :: from the album Mermaid Avenue by Billy Bragg & Wilco. It's sung by Jeff Tweedy and is just a gorgeous song. Bragg and Wilco set a bunch of Woody Guthrie's writings to music after his daughter released a bunch of his previously unreleased works to them.
Song playing right now:
The Golden Age :: Beck
Five songs/CDs I listen to a lot:
Wilco :: everything
Wilco is undoubtedly my favourite band of all time, which is strange given that I'm normally reluctant to name one single 'favourite' anything. Yankee Hotel Foxtrot is a solid album which holds a special place (see below), but I love them all.

Tegan and Sara :: So Jealous
See esp. You Wouldn't Like Me and I Bet it Stung. These twin sisters from Calgary have the hottest update to the Pat Benatar femullet!

Morrissey :: Live from Earls Court
See esp. The More you Ignore Me. I never get tired of this song.
Kathleen Edwards :: Failer
This cd is pretty much worn out. Nobody can turn dark and often downright depressing themes into such amazingly upbeat songs like Kathleen Edwards. See esp. 12 Bellevue

Tenacious D :: Tenacious D
This is my guilty and just slightly off-colour pleasure, and I'll admit that I can sing the entire album through at least twice without stopping. Okay, it's undeniably raunchy at times, but as Tenacious D says . . . "It doesn't matter if it is good, it only matters if it rocks!" But rest assured I skip through the more questionable 'prose,' so hopefully my moral integrity is still in tact with you folks.

Five songs/CDs that mean a lot to me:
Lo Boob Oscillator :: Stereolab
This song was part of a CD I made for my friend André's surprise birthday party a few years ago. It was one of the happiest birthday parties I've ever had the pleasure of attending on a sweltering hot July evening in Ottawa. This is also a good song to put on after you've had a crappy day.
Big Backyard :: Stephen Johns
Steve is my soon-to-be supa star Winnipeg-based and incredibly talented friend. The very first time I saw Steve perform was at the West End Cultural Centre and he sang this song. In fact, I think it was the first time he had ever performed it publicly. Not only is Steve a great musician, but he is an avid lover of Sea Monkeys and is an all-around incredible human being - I love you big Steve!
Cripple Creek Ferry :: Neil Young
I love Neil Young, and especially this song. It also reminds me of lazy Sundays spent eating the most amazing borscht, falafel and sweet potato fries at The Falafel Place in Winnipeg (a real 'diner' experience!), where the staff would blast Neil Young till our eardrums bled. Aaaaahhhh . . .
I Am Trying to Break Your Heart :: Wilco (Yankee Hotel Foxtrot)
The song that got finally got Steve hooked on Wilco - see I knew you'd come around ; )
Hotel California :: Eagles
This isn't so much a song that means a lot to me, but brings back funny memories. My very first dance with a boy (David) was to this song at a grade 8 dance held in a church basement. Hey, at least it was a good song!
First concert I ever attended:
Paul Young. Okay two things to my credit: my mother is a fan of adult contemporary music, and given that I was about 10 years old at the time I had little choice in the matter; I grew up in St. John's, Newfoundland where we were lucky to have anything come to the old St. John's Stadium - not to mention the international brit pop star and singer of that cheesy tune Every Time You Go Away!
Tag three people:
I think this thing has made its rounds, so I won't tag three people.
Posted by Sherri at 4:47 PM
June 28, 2005
So THAT'S what happened to my Gmail . . .
Sigh . . . I've been wondering where my very handy smart delete button and automatic secure Gmail logon went . . .
I suspect that we'll see a whole lot more of this kind of thing as content originators put the brakes on manipulation of their information by applications like Greasemonkey. I wonder if Butler and LibraryLookup are next . . .
Posted by Sherri at 3:47 PM
June 25, 2005
Happenins' at ALA 2005
I haven't been able to upload any fabulous pictures or conference details yet, but will be doing just that tonight when I get a free moment (whew, this is exhausting!) Besides being incredibly busy and instantly taken with this amazing city, we lost power at McCormick Place and the near south area of Chicago last night (and the Hyatt where I'm staying) which made it pretty hard to get online : )
I'm currently sitting in the ACRL Distance Learning Section session, where the Sheraton provides free wifi (yay!). One of the highlights yesterday was getting to meet a bunch of great library bloggers that previously I've only IMed with or emailed from time to time. There's lots to report, and more to come shortly!
Technorati Tags: ALA2005
Posted by Sherri at 11:44 AM
June 22, 2005
Blogging away in Chi-town . . .
I'm flying out to ALA tomorrow morning, and won't be blogging the usual schtuff for the next few days. I will be trying my darndest to blog conference events and general goings-ons, so expect to see some on-going coverage if all goes well with the wi-fi : )
Technorati Tags: ALA2005
Posted by Sherri at 2:43 PM
June 16, 2005
Dell happy to ship Mac OS PCs
Crazy talk you say? Oh but it's not! At least according to Fortune's David Kirkpatrick who today reports that Dell Says He'd Sell Apple's Mac OS. Does this mean that we might see Mac OS gracing the screens of the Delled-out library learning commons and instruction computer labs? Not necessarily. Though Michael Dell is open to the idea, Jobs is not. Not at the moment, anyway. But with Apple's latest switch to Intel, you have to wonder . . .
Posted by Sherri at 12:15 PM
June 15, 2005
NYPL launching digital audio books service, but you can keep that iPod in your pocket
Reuters reports today that NYPL is launching a new digital audio book service (in addition to their already established eBooks service). 700 fiction and nonfiction books will be available for download, and the audio book files will 'expire' 21 days after downloading.
While this is an incredibly cool project, reading into the details more closely got my ire up. Here's why. NYPL is using OverDrive for DRM management. This isn't intended to be a direct criticism of OverDrive per se, but the whole process is glued to Windows-only applications and DRM-protected Windows Media content. What does this mean for users? You must have a Windows machine running Win98 or higher, the Windows-only OverDrive Media Console, and Windows Media Player 9 or higher. Oh and if you want to use a portable device to listen to audio books from OverDrive, you can forget about using an iPod, which is arguably the world's most popular portable audio device. Mac users (and even worse, Mac users with iPods) need not bother. I'm not delusional - I know we live in a Windows world, but let's not forget that the iPod is not a Mac-only device. With Microsoft DRM, you can use pretty much use anything but an iPod (here's the list of 'suitable' devices). How does this make sense? It doesn't IMHO, and users are stuck dealing with the fallout of the DRM/software war raging between Apple and Microsoft.
DRM and the future of digital content is a complicated mess, and I worry about the decision that libraries will be faced with when it comes to choosing and partnering with eContent and eAudio providers. Thank goodness there are interested groups out there collaborating on open source DRM alternatives. Can't we all just get along? : )
Posted by Sherri at 10:52 AM
June 13, 2005
Check out my presence
I'm beta testing a presence application for a company that's working to make broadcasting Skype presence a whole lot easier. It monitors status in real time - not almost real time - but 'real' time. Pretty exciting stuff. Only issue for me is that it's a Windows-only .exe install (there's a wee little application that installs and runs in the systray), so I can use it at work, but not when I'm at home on my Mac.
I've been told that this will likely be ready for more widespread release in the next 90 days. Though according to the rumour mill, there may or may not be lots of changes ahead . . .
Sherri's Skype Status
Posted by Sherri at 4:16 PM
IM Hollywood-style
What a great if not hilarious story about the use of IM in Hollywood: Never IM in This Town Again! It seems that folks in Tinsel town are using their IM status to indicate their availability for work.
So popular is this new form of recruiting, many say that they've seen an increase in the use of Apple Computer's IM client, iChat AV over the last several months -- at least in the production of television commercials. Hollywood is a Mac town, of course.
Yes, of course ; )
Here are some new status messages that I've thought of for myself:
"moonlighting gig required to pay air conditioning bill"
"librarian who needs to pay student loans - will organize or digitize anything at rock-bottom prices!"
"car babysitter available"
"need vacation - wanna take me on yours?"
Posted by Sherri at 10:59 AM
IM goes live at UNLV Librarires
The UNLV Libraries IM service went live on Monday June 6 (adios, QuestionPoint!) This happened to coincide with a minor website launch, so in the process of making the switch to IM, I reorganized and completely rewrote the Ask a Librarian section of the site. As you can see, I gathered inspiration from some of the other libraries out there using IM. due to the website launch deadline, I wasn't able to get all the content up there, but it's coming along.
The e-mail solution
Because email was previously handled by QuestionPoint, we needed a new way to receive and route email reference questions to the 12-15 library staff that regularly respond to email questions. I created a web form that sends mail to a library reference Lotus Notes account, and set librarians up with proxy access via their personal Lotus email accounts. I created a 'librarians' folder where I move questions for specific librarians and notify them with an email that there is a question in their folder. Once the question is answered, the librarian moves it to the appropriate monthly archive folder. So far so good. It's a little more time intensive, but hey, it works.
The IM software solution
We're supporting AIM (and therefore also iChat), Yahoo! Messenger and MSN Messenger, and these choices were informed by the earlier IM Survey. The librarian chatters (there are about 12 of us) have been set up with Trillian. Getting everyone set up took some time: Trillian installs local user preferences and required that I visit everyone individually. I used our brand spankin' new copy of Macromedia Captivate to deploy three tutorials to staff to get them at least partially set up before I came to their offices (the Captivate tutorials were a big hit!). Our screen name is unlvlibrarian.
The tricky part had to do with the 'hand-off.' Our chat shifts run on an hourly basis. Because we're all using the same three unlvlibrarian accounts, logging in while a librarian from the previous shift is still in the middle of a chat will boot them out. Not so good. so I created AIM accounts for all the chatters (unlvsherri, unlvpriscilla, etc . .) so that we could use this as a secondary network to communicate with one another. So before logging into the unlvlibrarian account, we use our individual accounts to IM the unlvlibrarian and make sure it's okay to take over. It's also good way for people new to IM to chat with one another and get into the groove.
Though we're now supporting IM, IM software will not be made available to library computer users. The systems side of the house has decided that there are too many potential security risks involved. As I see it, this is simply an inconvenience factor for students because no matter when I talk a walk out by the workstations, people have downloaded and are running IM clients to chat with their friends. So it's being installed anyway, though Deep Freeze erases it after every restart. In the meantime, I've provided users with web login links on the chat page so that they have the option if they find themselves in a lab where they can't install software.
Finally, I've added links to the Ask a Librarian service to the various databases that support customized linking. Presence presence presence!
The statistics-keeping solution
One thing about this switch that did concern me was the (in)ability to track and keep statistics, which had previously been collected automatically by QuestionPoint. One the one hand, I really like the fact that chat is 'disposable' and that we can dispose of transcripts and personally-identifiable information when and how we want to (not an option with QuestionPoint). On the other, I need to capture some basic statistics, and trying to gather that information from numerous people would have the potential to redefine my job description! Finally, the solution needed to be easy and obvious, because we're all busy people and don't need more added to our plates than we already have. So . . . we've developed a data entry page using PHP to feed basic statistical information into a MySQL database. At the start of each chat shift, the librarian simply has to go to the URL and use the drop-downs provided (a comment box is also provided near the end of the page that's not visible in the screenshot):
Traning
The initial training session focused specifically on setting up and using Trillian, and some basics of chatiquette. Once everyone has had the opportunity to start chatting, we'll be having an additional advanced training session later in the summer. For more information on IM training, take a look at the great stuff that Michael Stephens has done.
Feedback
On our first full day of service, I had three chats in a two hour time span. Two of the students that I was chatting with each said something along the lines of "thanks so much for offering this service - it's so great that you're using IM at the library!"
Like Linda Richman I was all verklempt. Talk amongst yourselves : )
Posted by Sherri at 6:30 AM
June 9, 2005
schwagalicious!
Flickr is giving away schwag! All you need to do is send a SAE and maybe a postcard if you wanna : )
Posted by Sherri at 11:50 AM
June 8, 2005
Innovative takes a step out of the darkness and into the (RSS) light
Oh thank god . . . Innovative has (finally) announced that RSS is coming in 2006. Not only is this an important step toward fulfilling user needs, but it also makes it easier for libraries to plug in to campus-wide portal projects and make their presence known and information useful for students. So could you tell that we're a III library in the midst of trying to make III play nice with our single sign-on efforts (which, predictably, it isn't)? : )
More information via RSS4Lib via Innovative's June 2005 INN-Touch newsletter:
Innovative will use RSS to support one-to-many communication, but in Release 2006 there will also be one-to-one support. Patrons will be able to get RSS messages as part of their My Millennium suite of personalization features. Timely messages such as "Materials due tomorrow" or "New item on hold shelf for you" will let patrons know about their interactions with the library more quickly than ever before. [...]

"Our users are familiar with RSS feeds as they stay current with the news or their special interest groups and it seems to us that the library should be part of that information stream," says [Yale University Law School's] Associate Director for Technical Services Mary Jane Kelsey. "The library will begin by providing time-sensitive patron notices in an RSS feed so our busy faculty and students can see the status of holds, recalls, and overdue materials at a higher level than their patron record. They will also have the option to integrate the library's feed into the Law School portal or subscribe with a local RSS reader."
Posted by Sherri at 9:30 AM
June 5, 2005
Need a Wiki? Try Schtuff
Schtuff is a free web-based Wiki hosting service (read: no server or server setup required). Tagging and RSS feeds included, as well as custom permissions and an image gallery.
Posted by Sherri at 2:44 PM
IMing a hit . . . from Athens to Vegas
Chad Boeninger at the Ohio University Libraries has completed an IM survey and posted the results on his blog, Library Voice. Here's the neat part: Chad used the same questions that I did (in addition to questions about podcasting and other portable devices) for the UNLV survey, and the results pretty much mirror each other. As Chad says "one can definitely see the need for IM reference, and the need is the same in Ohio or Nevada or wherever."
In related news, IMing is going live at UNLV Libraries tomorrow (Monday). We've moved quickly on this partly because access to our commercial VR system ended on Thursday and we don't want to have a lapse in service. We're using Trillian to monitor three different IM accounts. Once I've had time to catch my breath, I'll post more about the set-up and how we're doing with it here at UNLV.
Posted by Sherri at 2:03 PM
June 3, 2005
Knowledge construction through concept mapping
I've been pretty insanely busy at work these days and haven't had a lot of time to post. However, I read an interesting article in last weekend's Globe and Mail on concept mapping in education: Concept-mapping idea goes global as educational tool
I've been intrigued by the whole concept mapping idea, and have found it useful in some of my own work and thought organization. But how might concept mapping be translated into applications for library information literacy? I'm always on the lookout for new instructional methods and approaches as I tend to tire of the repetitive same 'ole same 'ole pretty quickly. Here's a snippet from the article discussing the rationale for using concept mapping in K-12:
"If you organize it as a concept map, then you have to understand the topic . . . We want kids to become knowledge constructors instead of just information consumers."
And while concept mapping can be used as a learning tool that encourages critical thinking, it can also be used as an assessment tool.
The software mentioned in the article is called CmapTools and is produced by IHMC (Institute for Human and Machine Cognition). The CmapTools client may be freely downloaded for use by anybody, for either commercial or non-commercial use.
Posted by Sherri at 7:13 PM