« Music meme tag | Main | Happy 138th Canada! »
June 30, 2005
Blogger's Roundtable at ALA

Pic by Michael Stephens
I had intended to blog ALA coverage more or less 'live' as I attended sessions, really I did, but that didn't happen for a couple of reasons. First, internet access wasn't readily available without having to pay at each of the numerous hotels where sessions were taking place. Second, being a first-timer, I found the whole thing a bit overwhelming. With the constant shuffling between downtown Chicago hotels in some of the most oppressive hot and humid heat I can remember (it was a delight to come back to the 105 degree desert!), I barely had time to eat (thanks though to Meredith and Adam for introducing me to Chicago-style pizza - the spinach pizza was unbelievably delicious!) and catch my breath, let alone the wherewithal to pull some halfway intelligent observations together.
Last Friday afternoon was the official start of the conference for me - and what a way to set the tone! A few bloggers (see pic below) got together for some conversation about such things as how our blogging endeavors have affected our professional and working lives, how blogging has impacted upon the way we collaborate, the relationship between our blogging efforts and our respective institutions, and even if blogging is or should be considered in the tenure process. It should appear in Library Journal sometime toward the end of the summer, so you'll be able to read all about it there.
Like Meredith, I was just a bit star struck. It was truly surreal. I chat with some of these folks on a semi-regular basis, but seeing everyone f2f was, hmmmmm, a bit weird but in a really great way. I came away from the roundtable with a sense of solidarity and enthusiasm not just as a fellow blogger, but also in terms of the thoughts and ideas about libraries and services that flowed freely and easily throughout the discussion. It was wonderful, and I look forward to continuing the 'virtual collaboration' in the blogosphere.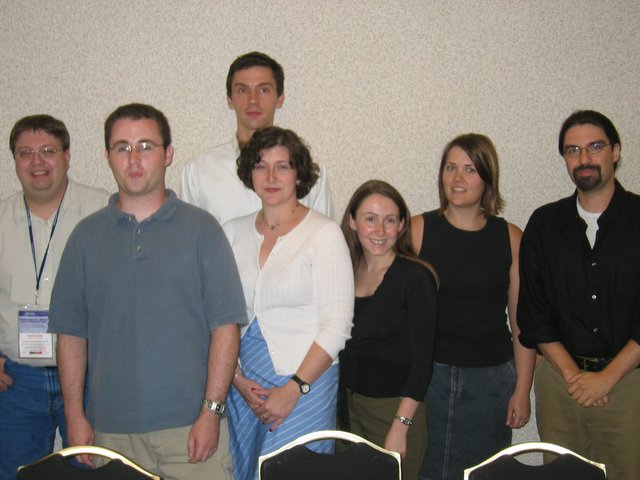 (From L-R: Luke of lbr weblog, Chad of Hidden Peanuts, Aaron of Walking Paper, Laura of
Library RFID, Meredith of Information Wants To Be Free, me, and Michael of Tame the Web)
I'm co-opting Meredith's picture becuase my camera is not cooperating at the moment - argh!
Little did I know this was only the beginning of bloggin' good times at ALA . . .
Technorati Tags: ALA2005
Posted on June 30, 2005 5:05 PM to conferences