May 8, 2006
Access 2006 :: tentative program available
Access, absolutely one of the best conferences around for those with techy inclinations (imho), is taking place in Ottawa this year from October 11-14 and will be hosted by the University of Ottawa. The tentative program and list of speakers is now available. Registration isn't up and running yet, so subscribe to the feed to get the latest news and announcements.
Sadly, I missed Access last year but certainly plan on being there this year!
Posted at 3:01 PM| Permalink
May 5, 2006
CLA 2006 :: June 14 -17
CLA 2006 is taking place June 14 - 17 and the theme this year is Libraries Build Communities. I'll be presenting as part of a panel on Recruitment in Academic Libraries: Current State of Affairs, and I'm hoping that this session will result in some solid, productive discussion of the issue. From what I understand, part of the impetus behind this session has resulted from some of the early 8Rs reports. For those who haven't heard about the project, the 8Rs Canadian Library Human Resource Study "is a national research project that is examining important facets of library human resources from both organizational and individual perspectives over a period of two years."
This is a topic that I have some strong feelings about and I'm so grateful to have been offered the opportunity to speak about it with such a fine panel!
See you in Ottawa! (anyone up for dinner at the Green Door? : )
Posted at 1:08 PM| Permalink
March 30, 2006
OCULA Workshop :: Reference in Academic Libraries: Virtual Reference with R. David Lankes, Part II
We're back from lunch and starting the afternoon session by focusing on custom web applications.
Side note: David is using his spiffy new Mac Book Pro with Keynote and his fancy schmancy remote. This is just way too cool. Have this I must.
So getting back to custom web apps, Lankes says don't be scared!
LAMP
A collection of commonly used but independent open source software: LINUX, Apache, MySQL, PHP (PERL, Python). Open source is not the way it used to be (C, Java, home grown, in other words, not for mere mortals), but is now made up of multiple owners and development communities. Once you get over that initial learning curve (and let's be straight, there is one), your options open up immensely and it enables you to offer a wide array of diverse services and software. Need to know about OS integration, databases, web servers, scripting engines. He showed a live demo of WordPress install and TikiWiki. Check out his tutorials for more on that.
In talking about wikis, Lankes says "the website IS reference!"
sv: I love it. This represents quite a significant departure in thinking for a lot of people who view websites as purely informational brochure-ish marketing tools.
How do you do a reference interview online? It starts at the 'form' and this is where the reference interview begins. He provides an example of what he considers to be a really good form at ipl.org. He stresses that we need to personalize it, and too few libraries do this. Put up a picture, humanize the experience. If you don't want to put up your picture, go get somebody else's ; )
Assessment
See Facets of Quality for Digital Reference Services Worksheet
I had to leave the workshop early and unfortunately had to miss the last hour and a half. Right before the 3:00 break, Lankes was talking again about technology in libraries and how there is a tendency to push tech stuff onto the, ahem, newer and therefore perceived-to-be cooler and more technologically savvy librarians. Of course, this is not always the case, because:
"Just cause you're a new librarian doesn't mean you know how to dress nicely . . . we still turn out luddite introverts."
To clarify, and as per David's comments below, he didn't say that all new grads are luddite introverts. But to expect that all new librarians are 'cool by default' and into all that 'new tech stuff' is simply not true.
Posted at 1:30 PM| Permalink
OCULA Workshop :: Reference in Academic Libraries: Virtual Reference with R. David Lankes
I'm attending the Reference in Academic Libraries - Current Issues workshop today with R. David Lankes. I'm excited to hear David's take on the current state of virtual reference, and I was able to get a bit of a taste for what's in store at dinner last night. What follows are some snippets of conversation and interesting sound bites.
Lankes says that there is a new transparency in reference happening, and it's a very uncomfortable transition. Libraries have it backwards - reference is an insane, unnatural concept, and admitting ignorance is really uncomfortable for people. He talked about the 'greedy librarian problem,' where reference librarians hate giving up a question and are literally chasing users out the door. Reference is a part of public service, but it's in fact not very public at all. Reference is an unnatural act. Virtual reference is different from traditional reference: different set of ethics and practices. It creates artifacts by default (transcripts, etc) that give us greater control over quality - it's harder to get rid of the artifacts than to keep them - the exact opposite of f2f reference. Virtual reference is beyond libraries ('ask the amish' and 'ask a locksmith').
He talked about one of my soapboxes du jour: we need to be able to speak the language of technologists: we're not just in the 'people' business, and it's not good enough to say that you're a reference librarian so you therefore don't 'do technology.' This is a big problem. You need to be able to manipulate the tools of the information age: we need to retool our profession and develop the next level of services.
Virtual Reference is very different in that we can break down traditional barriers and hierarchies. Unlike some other library services and functions, it's not inherently hierarchical and isn't rooted in library practices. It lends itself to development of group identity, organizational development and bonding. Training - how do we train people to be constantly engaged? Training is not just about virtual reference - we're always faced with change.
Lankes: "Burn the reference desk altogether" - (sv - muuuuuwhahaha! ; )
VR Modes:
Chat
What is classically called chat reference (for example commercial 'chat' software) IS NOT chat (here he showed a live example of IRC). Chat is in fact a bizarre weird subculture of the internet, it is multithreaded and chaotic, and some people really thrive on it. People who use this are not thinking of what we in libraries tend to think of when we talk about library chat.
"STOP CALLING IT CHAT because it ain't."
What we have is library-centric software that is an excellent match to the needs of the library community, but not an excellent match to anyone else. Do users care about page pushing? Do they care about co-browsing? Maybe not. This replicates the old reference model: stop what you're doing and go someplace different to ask a question.
Email
Email is the number one internet activity. It's free and it's cheap, and Lankes considers it also to be 'virtual reference'. Email is a well-established protocol, but is old (1980s). It doesn't do threading very well, and a lot of what we do in reference (like asynchronous reference interview) very well. It tends to 'flatten' things. Prone to spam. Oh yeah.
IM
Gives you a lot of the features you would get in chat, but it's free. Interoperability kept a lot of people away from chat, but that problem has been solved with things like Adium. One issue is lack of queuing, which is a feature of commercial software. But IM is a pretty feature-rich beast these days.
Blogs
Build on blogs as a way of doing reference: people posing questions online. Example provided of OpenQA. People can subscribe to lists of questions, for example like the StoryStarters blog at Syracuse (awesome idea!) Looking at reference as a community activity. They don't have to be single-authored blogs, but can include an entire community of people who can answer reference questions. Reference is community! Blogging is reference out loud!
Posted at 9:21 AM| Permalink
October 27, 2005
Sights (and even sounds!) of Monterey
I did in fact manage to find a couple of hours today to steal away from the conference and take a stroll down Cannery Row and visit the Monterey Bay Aquarium. I created a Flickr photo set for the conference, but it's mostly pics from in and around Monterey. Paul has the sounds.
Posted at 12:25 AM| Permalink
October 26, 2005
I do NOT *heart* Keynote
Grrrrrr . . . so much for trying to be cool and step off the powerpoint bandwagon! Paul and I were all geared up to give our presentation at Internet Librarian yesterday when technology (Keynote) failed us in a big bad way (read Paul's take on the Keynote debaucle). We were oh so diligent the day prior about checking to make sure the presentation ran smoothly from the iBook to the projector, etc, and everything was fine . . .
. . . fast forward to Tuesday October 25th, approximately 1:25 pm . . .
what had worked yesterday was now not working in front of a room full of people waiting for us to speak. I got a nasty "not enough VRAM to play your slideshow" error and nearly had a full-out panic attack. I even tried exporting it to .swf, taking out all the fancy transitions that we were going to wow people with (really, you have been wowed! you'll have to take our word for it!) but nothing worked. I swear that those 7 minutes took a year off my life. Anyway, we made due by going through the presentation using the navigator and thankfully we had a lot of live demos.
I did some hunting around to see if this was a known problem with Keynote, because I wasn't going to let my new little iBook take the blame for what I suspected was crappy buggy software. Sure enough, details right from the horse's mouth, so to speak:
Keynote 1.0: "Computer does not have enough video random-access memory" Alert
and
Info from MacInTouch Reader Reports
Yes, Apple has posted instructions on how to deal with the error, and it's too bad I didn't know this at 1:37 pm yesterday. Little did I know, all I had to do was quit Keynote and restart. Now I'm super mad. Keynote: you're banished.
Posted at 10:54 PM| Permalink
Giant calculators invade Monterey!
So . . . the gift for speakers at Internet Librarian is this rather large, er, ginormous calculator. Michael has started a photo pool of speakers with their calculators, and it's great fun so check it out.
Posted at 1:05 PM| Permalink
October 25, 2005
And the award goes to . . .
Copernic Desktop Search (CDS)! The folks at Copernic received the AIPP Technology Award this morning. I remember downloading Copernic many moons ago when the software was relatively new on the scene. I haven't checked it out recently because Spotlight tends to rule my desktop these days. But this sure is a reason to go back and take a look at what they've been up to. Downer: it's windows only.
Posted at 1:25 PM| Permalink
Inernet Librarian :: Day 1 :: Web Wizard's Cool Tools
Monday, October 24, 2005, 4:15pm
Panel: Web Wizard's Cool Tools, Darlene Fichter, Frank Cervone, Jeff Wisniewski and Marshall Breeding
Darlene's top picks:
Collaborative tools
FontLeech (best free fonts on the web)
Frank's top pick:
Completely free
No limits on data, number of surveys, etc
Marshall's top picks:
Jeff's top picks:
Posted at 1:20 PM| Permalink
Internet Librarian :: Day 1 :: Web Services
Monday, October 24, 2005, 2:15pm
Web Services: Enabling a New Generation of Library Technology, Frank Cervone and Larry Mrazek
Frank Cervone, Northwestern University
What are web services?
A set of infrastructure components such as SOPA, WSDL, and UDDI
Application-orientated services over the web: technologies, standards, business models
A new breed of web applications, but they tend to be much smaller and self-contained. They really only do one specific thing, and are self-describing. Some are very simplistic and others enable whole complex business processes.
Comprised of a service provider, service requestor and a service registry.
Implemented via http and xml as the wrapper for transmitting data packets through the protocol.
It is implemented in layers
SOAP: Simple object access protocol - the envelope that sends packets of information around to the provider
WSDL (web services descriptive language): Metadata that describes what a service is and what it can do, implemented through 'interactions'.

UDDI: Kind of like a DNS
SRU/SRW: Interesting for libraries, a replacement for Z39.50 implemented through XML. Uses REST (representational state transfer) to perform 3 basic operations:
Explain: returns location of the database, what it contains
Scan
SearchRetrieve
Idea of 'loose coupling' and connecting and disconnecting from services as we need to, and not having to develop otherwise complex programmatic applications. This expands the uses of library data and integrates more tightly with the ILS.
Larry Mrazek, LCM Research Inc.
Possible uses of web services in libraries:
provide additional content for library catalogs
readers advisory service
collection development
custom search interface
supply content for custom portals
integrate information with other sources (ex. Maps with business location data)
information gathering
interlibrary loan
friends of libraries/fundraising
Suppliers and Sample Uses of Web Services:
Amazon (book search, alexa): appending list of books to blogs; creation of min amazons, complete with shopping cart and search engine
Factiva
Google: interaction with handheld devices
Yahoo: custom site search
Benefits of Web Services:
Access to information from the vendor. Amazon's e-commerce services provide access to the following:
product images, reviews, etc
complete control over search criteria
platform neutral
cost (free in most cases)
Problems:
usage restrictions
content quality
privacy
reliance on single source for data without any contractual obligations
restrictions on content due to copyright and other issues
Tools:
More examples available at the LCM Research website.
Posted at 1:23 AM| Permalink
Internet Librarian :: Day 1 :: Choosing the Right CMS
Monday, October 24, 2005 1:15pm
Choosing the Right CMS, Jeff Wisniewski and Cheryl Stenstrom
Jeff Wisniewski, Web Services Librarian, University of Pittsburgh
Management of information is a crucial aspect of the many functions of a CMS:
Creation: interface to input and submit content; completely shields content providers from code. Tech savvy people can also get their hands on the code view too, if they want to.
Management: every cms provides some degree of premissioning/security, version control and archiving.
Presentation: every cms supports stylesheets and templating, important for maintaining the graphical integrity of your website.
Publishing: can be done in a number of different ways: certain individuals can make content live right away, others may not be able to without going through a gatekeeper system first. Can time when updates occur, too.
Advanced CMS functions
Support for multiple delivery channels (xml, html, rss, wap)
Integration with existing directory servers for permissioning
Search capability
APIs
Reporting
Update scheduling
Cheryl Stenstrom, British Columbia Public Library Branch, Library Consultant
Stenstrom focused on showing the audience a live demo of the front and back end of the BCPL website which was made with the Mambo CMS.
Criteria in choosing a CMS:
few staff
needed to be password protected
flexiblity
robustness
low cost
They used Easysoft ODBC Bridge to link into existing MS Access databases.
Posted at 12:56 AM| Permalink
Internet Librarian :: Day 1 :: Users Driving Web Site Changes
Monday, October 24, 2005, 11:15am
Users Driving Web Site Changes, Karen Coombs and Steve McCann
Following User Tracks, Karen Coombs, University of Houston Libraries
Data that we may already be collecting about our users can be used to tell us a lot about their browsing behaviour. Combs broke it down into the following 6 sources:
1. Web Server log files: currently using AWStats to monitor entry and exit server hits.
2. Proxy server log files: set up to record the users IP address, what URL they were accessing, where they came from, and some other pieces of valuable info. Wrote an application to analyze EZproxy log files at SUNY Cortland to see where the user was coming from both on and off campus.
3. OPAC search log files: depending on the vendor, you can see searches and determine if students are confusing the catalog with an ejournal search, for example.
4. Data from ILL systems: see where ILL requests are coming from (particular databases, etc).
5. OpenURL data: resolvers like SFX include various reporting mechanisms.
6. Session path tracing: wrote a script that creates xml files to trace a users path through the library site. Much more specific than the entry page data from server log file analysis.
Towards a Culture of Usability with User Personas, Steve McCann
Why Personas?
a precise descriptive model of the user, searching behaviours and motives
purported solution to problem of the 'elastic user'
useful for future design discussions
To build the personas, they developed an online survey and did 6 in-person interviews. From that they created 4 user personas. Asked some basic questions (age, language, etc) and found out that wasn't as useful as thought it would be. This information came into play, but much later on in the process. Asked interviewees how they researched. 'Find Periodicals' tended to be difficult for people. A lot of people didn't have experience coming up with a topic. Asked how they felt about the research experience and whther or not they were confident about their results. About 60% were excited about the resources they came up with from their research. Asked if they were worried about the scope of the articles they found.
Used Gregorc Style Delineator for creating the personas, and subsequently developed 4 personas using this tool. Librarians were excited by the results. Difficult decisions became necessary in trying to determine which of these people to design for.
Posted at 12:31 AM| Permalink
October 24, 2005
Internet Librarian :: Day 1 :: Library Terms that Users Understand
Monday, October 24, 2005, 10:15am
Library Terms the Users Understand, John Kupersmith, University of California Berkeley
Usability testing is starting to confirm for us that a lot of the words we put in front of our users have little to no meaning for them (i.e. catalog, database, ILL, periodical). It's like showing that person a wall of arbitrary symbols, a wall of noise. They're not obvious and they're not scannable.
Library jargon is not a new problem. (ha!)
1943: ALA published its first glossary with 2000 terms.
1986: in testing a student commented that to them, being in the library was like being in a foreign country (keeping in mind that this is pre-internet!)
1989: patrons understand only 50% of the words we put in front of them
User success finding journal articles or databases on library websites: people were able to perform this test successfully only 50.3% of the time. Why?
site organization
graphic design
excessive verbiage: doesn't matter what they are, too much is bad bad bad!
terminology
The web is a sparse navigation environment, unlike the social and physical environment. Kupersmith looked at 44 usability studies (full details available on his website) with testing falling into the following categories:
25 user observation
12 survey/questionnaire
4 card sorting
5 other/not specified
Problematic words:
Not understood:
Acronyms and brand names
Periodical
Reference
Resources
Misunderstood:
Library catalog
Database
E-journal ("misunderstood in a hopeful spirit": users hope to get to the article level but don't)
Understood:
Find books
Find articles, etc
Annotated links
Strong attractors:
Journal
Services
Weak or non-attractors:
Electronic resources
Students tend not to understand the classification system itself, and broad subject listings, etc (they've gone to A-Z lists at Berkeley). Many librarians are concerned that changing the terminology will dumb down the website. Hmmmmmm . . .
Best practices:
1. test users understanding and preferences
2. avoid or use cautiously terms that users don't understand
3. put natural language terms on top-level pages (target or action words another way to do this); introduce more technical terms on lower-level pages
4. provide intermediate pages
5. provide alternative paths
6. enhance or explain potentially confusing terms: additional words or graphics, mouseovers and tooltips, glossaries of terms
7. be consistent throughout the website
Beyond terminology: changing the system
using user profiling and customization to create a different user interface for your online presence
multisearch systems
Posted at 11:36 PM| Permalink
Internet Librarian :: Day 1 :: Opening Keynote
Shifting Worlds, Lee Rainie, Pew Internet and American Life Project
Monday, October 24, 2005, 9am
The more commonplace and invisible technology becomes, the more impact it has and more pervasive it becomes. A few facts and figures:

68% americans use the internet
87% teenagers use the internet
most of the people in these groups are broadband users
The digital divide is giving way to finer grades of distinctions. There are now three main identifiable groups instead of the more commonly cited and dichotomous two (the haves and have-nots):

those who are completely cold to the internet: about 1/5 to 1/4 of people
those who are tepid with respect to the internet & are happy with dial-up; they are not seeking larger stores of information and are happy with where they're at with the internet
those who have a hot relationship to the internet
In terms of online life, a decline can be seen in chat rooms, in particular. People are having community discussions in other places like IM, blogs, etc.
Teenagers:
People who are between the ages of 12-17 are more connected than ever. They adore IM, and use it every day for hours at a time. They are also nuts about their cellphones and are heavy users of text messaging and photo applications. These habits are redefining the notion of what it means to be connected to other people: "the conversation never ends." Teenagers live in a hyper-connected world. Teens use these tools to play with their identities, such as with im status. They live in a world that is saturated in media, for example gaming. 43% of teens have bought something online, and their buying power would be even greater if they had greater access to credit! 19% have created blogs, and they are creating blogs and their own websites at a rate three times higher than the rate of adult creation. They are crazy multitaskers.
The Internet & Politics
Last year was a breakout year for the internet and politics We saw the internet being used for direct participation in politics. The internet is now a more important source of news than radio for a lot of people. For younger people, it also rivals television for political information and news.
Major moments:
Witnessed a notable growth in the number of people who turn to the internet during major moments, and more of them were saying that the internet played a crucial role as they sought out the information. More than 50% of all searches taking place online are for people other than the searcher (i.e. searching for medical information for a mother, friend, etc). People are saying that the internet is playing a greater role in information sought with respect to marriage and divorce.
Some general trends:

more people and things will be connected on the internet. There will be an internet of things (for example toilets in France have ip addresses to indicate when they need a cleaning and golf balls with rfid tags so that they can be easily found) as well as of people
many more people are accessing the internet via mobile devices: cell phones are becoming the remote control devices of people's lives
content creation will continue to grow (podcasts, blogs, wikis, etc). 44% have created this sort of content at one time or another, 57% of broadband users have
How these trends are affecting libraries:
Idea of the long tail: we are not in a hit-driven era anymore. Between 40-50% of monthly sales are for long tails products with examples such as Amazon and Netflix. People are discovering these things through recommendation systems, and other social networking means (del.icio.us, blogs, etc).
Smart mobs à la Howard Rheingold. People are sharing information on the fly, acting on their own with information and sharing it around to create instant communities, events, information sharing, etc. Example: texting friends on the spot about something and distributing that to a network of people, creating mass and instant mobilization, etc.
Modern life is characterized by continuous partial attention. This is not the same as multitasking, but we're instead scanning incoming alerts for the ones best thing to seize upon. This is a major behavioural change that may have huge implications for teaching and learning. Attention can be fractured and built in to computer and technology design.
Finally, what is technology's role in modern times? Book: Leisure: The basis of culture by Josef Pieper looks at how leisure in danger of being swallowed by a world of total work. Leisure does not mean doing nothing, per se, but refers to moments of stillness with our families and communities, etc. Libraries are perfectly placed to embrace these two worlds and promote the right mix of work and leisure, and help the culture toward an information habitat.
Posted at 6:54 PM| Permalink
Internet Librarian 2005 :: Day 1
I'm here! Can't say that I've seen too much of Monterey yet, but man oh man does this place makes me weepy for my maritime home. As we say in Newfoundland, it's a 'real mauzy day' here in Monterey, which in my opinion, is just lovely!
This is my first IL2005 and the sessions have been fabulous. I'm blogging offline because wifi is not available in the conference rooms themselves. Ironically, I'm getting free wifi in my hotel room for the hotel across the street - yay! As soon as I get my notes cleaned up, I'll post them here.
Posted at 3:45 PM| Permalink
October 22, 2005
En route to Internet Librarian 2005
I'm leaving for the Internet Librarian conference bright and early tomorrow morning. If you're also attending and are interested in meeting up for conversation, drinks, whatever . . . email or IM me:
| | |
| --- | --- |
| | AIM & iChat |
| | MSN: sherri_vokey [at] hotmail.com |
| | sherrivokey [at] gmail.com |
See you there!
Posted at 4:20 PM| Permalink
October 17, 2005
Aggregated blog coverage available for Access 2005
If like me you're sitting at your desk this morning and wishing you were at the Access 2005 conference, be sure to check out Planet Access, which provides a roundup of blogged conference coverage. There is also an Access2005 Flickr pool.
And yes, I am really jealous : )

Good times at Access 2004, Halifax
L-R: me, Michael Hohner, Grant Gelinas-Brown and John Dobson
(my buddies, the University of Winnipeg Systems Department
plus one big Theodore Tugboat :: Halifax Harbour)
Posted at 10:16 AM| Permalink
September 29, 2005
Internet Librarian 2005
So it's official: I'll be attending (and speaking) at Internet Librarian 2005, and I'm betting that my co-presenter is happy about that : ) Having just started a new job and all, I wasn't sure that I would be able to make it.
If you too are heading to Monterey, you might consider blogging the conference. I'm opting out of official blogging duties this time around after finding it a wee bit overwhelming at ALA, but will likely offer some running commentary when I can. After all, there are whales to be watched and penguins to be seen! ; )
Posted at 12:04 PM| Permalink
July 21, 2005
Access 2005 Conference Schedule & Registration Info
The Access 2005 Conference Schedule is up, and as usual, is jam-packed with a cutting edge lineup. If you haven't been to Access before, then you must! Well, that's just my purely unbiased opinion of course ; ) Registration will open July 26.
Posted at 2:31 PM| Permalink
July 8, 2005
ALA2005 Mash-up
There are several places around the bloglosphere (like here) where you can access excellent coverage of ALA2005, so I've decided not to describe the sessions I attended in exhausting detail (most of which has already started to fade), but to instead provide a thematic round-up, of sorts. These thoughts will obviously reflect the limited number (there's never enough time to see all you want to see!) of sessions that I was able to attend:
Friday June 24, 3:00 pm: Library Journal Blogger's Roundtable
Saturday June 25, 8:30 am: Searching Digital Resources: How do people search? How do we know what they want? How do we know when they find what they need? (LITA)
Saturday June 25, 1:30 pm: Distance Learning: We Know Where We've Been, But Where Are We Going? (ACRL-DLS)
Saturday June 25, 4:00 pm: Virtual Reference Discussion Group: "Assessing Core Competencies for Virtual Reference" (RUSA-RSS/MARS)
Sunday June 26, 1:30 pm: LITA Top Technology Trends - An Ongoing Discussion with Library Technology Experts (LITA)
Sunday June 26, 5:30 pm: OCLC Library Bloggers' Salon
Monday June 27, 1:30 pm: Google's Library: What's in Store for Google Print and Google Scholar (I had to jet out half way through to get to the airport an unfortunately missed the Q&A, which I imagine would have been the most lively part of the discussion)
It's all about localization, baby - or - subject pages be gone?
'Localizing' resources and services at the point of user need and use was a big theme, most notably at Lita Top Tech Trends. Services such as IM bring the library to the user, instead of dragging them kicking and screaming into our physical and virtual spaces. Along with that, services such as web 2.0, which Roy Tennent spoke about, will come together using things such as Ajax, CSS and javascript to create personalized and highly interactive web environments (such as is the case with Amazon and applications built with Google Maps). This got me thinking about what might this mean for our dear old subject pages . . . does this render them irrelevant?
Participatory Architectures as Trusted Information Repositories
On a related note, Joan Frye Williams spoke about trust and where users are going to get their information. She spoke about the 'mass collaboration model' where users demonstrate more faith in information provided by their peers (via blogs, wikis, and so forth) than from institutions, tomes, etc. Can this be a style of library practice? (good question!) As she sees it, the library's job now includes creating mass collaboration environments, which have typically been scorned. To be useful it has to be personal, she argues that we're not doing that. Are our roles as librarians shifting from pre to post filtering, from gatekeepers to advisors?
Where would we be if we had started with instant messaging?
This comment (roughly paraphrased) was made by Karen Schneider at Lita Top Tech Trends. Where would we be, indeed! I had to opportunity to speak to many people informally about their forays into the wonderful world of IM and/or general questions about starting up an IM service. However, nowhere were these questions and conversations reflected in the formal conference agenda. This was surprising to me given the growing number of libraries offering IM, not to mention the bigger picture issue, mentioned above, about offering localized services at the point of need/use.
Bloggers have more fun
Okay not that I didn't already think that bloggers were a cool bunch, but the OCLC Bloggers' Salon was amazing! I can say without any doubt that the most valuable conversation, exchange of ideas, fun and inspiration at ALA2005 came from my interactions with these folks. It was a great time!
Technorati Tags: ALA2005
Posted at 4:14 PM| Permalink
June 30, 2005
Blogger's Roundtable at ALA

Pic by Michael Stephens
I had intended to blog ALA coverage more or less 'live' as I attended sessions, really I did, but that didn't happen for a couple of reasons. First, internet access wasn't readily available without having to pay at each of the numerous hotels where sessions were taking place. Second, being a first-timer, I found the whole thing a bit overwhelming. With the constant shuffling between downtown Chicago hotels in some of the most oppressive hot and humid heat I can remember (it was a delight to come back to the 105 degree desert!), I barely had time to eat (thanks though to Meredith and Adam for introducing me to Chicago-style pizza - the spinach pizza was unbelievably delicious!) and catch my breath, let alone the wherewithal to pull some halfway intelligent observations together.
Last Friday afternoon was the official start of the conference for me - and what a way to set the tone! A few bloggers (see pic below) got together for some conversation about such things as how our blogging endeavors have affected our professional and working lives, how blogging has impacted upon the way we collaborate, the relationship between our blogging efforts and our respective institutions, and even if blogging is or should be considered in the tenure process. It should appear in Library Journal sometime toward the end of the summer, so you'll be able to read all about it there.
Like Meredith, I was just a bit star struck. It was truly surreal. I chat with some of these folks on a semi-regular basis, but seeing everyone f2f was, hmmmmm, a bit weird but in a really great way. I came away from the roundtable with a sense of solidarity and enthusiasm not just as a fellow blogger, but also in terms of the thoughts and ideas about libraries and services that flowed freely and easily throughout the discussion. It was wonderful, and I look forward to continuing the 'virtual collaboration' in the blogosphere.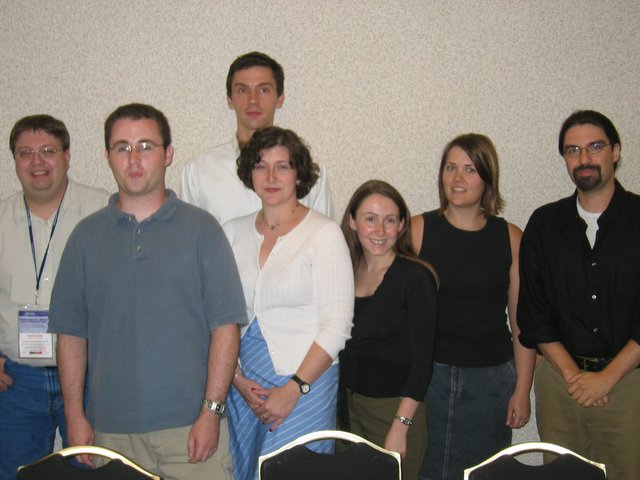 (From L-R: Luke of lbr weblog, Chad of Hidden Peanuts, Aaron of Walking Paper, Laura of
Library RFID, Meredith of Information Wants To Be Free, me, and Michael of Tame the Web)
I'm co-opting Meredith's picture becuase my camera is not cooperating at the moment - argh!
Little did I know this was only the beginning of bloggin' good times at ALA . . .
Technorati Tags: ALA2005
Posted at 5:05 PM| Permalink
June 25, 2005
Happenins' at ALA 2005
I haven't been able to upload any fabulous pictures or conference details yet, but will be doing just that tonight when I get a free moment (whew, this is exhausting!) Besides being incredibly busy and instantly taken with this amazing city, we lost power at McCormick Place and the near south area of Chicago last night (and the Hyatt where I'm staying) which made it pretty hard to get online : )
I'm currently sitting in the ACRL Distance Learning Section session, where the Sheraton provides free wifi (yay!). One of the highlights yesterday was getting to meet a bunch of great library bloggers that previously I've only IMed with or emailed from time to time. There's lots to report, and more to come shortly!
Technorati Tags: ALA2005
Posted at 11:44 AM| Permalink
June 22, 2005
Blogging away in Chi-town . . .
I'm flying out to ALA tomorrow morning, and won't be blogging the usual schtuff for the next few days. I will be trying my darndest to blog conference events and general goings-ons, so expect to see some on-going coverage if all goes well with the wi-fi : )
Technorati Tags: ALA2005
Posted at 2:43 PM| Permalink
May 19, 2005
Confirmed Presentations for Access 2005
Confirmed speakers and topics as of May 19th, 2005
Posted at 11:44 AM| Permalink
May 14, 2005
See you in Chicago?
Well I've finally gotten my act together and registered for ALA Chicago. As anyone who is going will know, there are no hotel rooms to be had at the moment, and I thought I was going to be SOL. Thankfully, a colleague came to the rescue and I now get to share a room at a hotel located right at the conference site - sweeeeet! I'm lugging a laptop along and will be blogging the conference (thanks to Meredith for the Wiki!) This is my first ever ALA conference, and I'm oh so excited. So far I have the NMRT Social in my planner. Okay, there's more than that on my agenda, but I have it on good authority that the NMRTrs know how to have a big 'ole bash.
See you there?
Posted at 5:25 PM| Permalink
March 18, 2005
It's off to Scotland I go, hi-ho-hi-ho


I just learned this morning that my proposal for the eLit 2005 conference has been accepted for the "Challenges of the eEnvironment" theme. I was lucky enough to have attended and co-presented at the 2003 conference, and it was a fantabulous time. Great, but very expensive - anyone else out there going and looking for a roommate?
My presentation is:
Creating and Assessing Learning Opportunities for Distant Students: The 'Do-it-Yourself' Approach
At the University of Nevada, Las Vegas Libraries, distant students, not to mention the growing number of students and faculty who choose to carry out their research off-site, may be disadvantaged when opportunities for online learning are considered. Though a well-developed and widely utilized Instruction program exists, similar opportunities for eLearning had not been developed within the digital library environment. A handful of co-present Instruction teaching materials had been transferred to the web, however there were no specific or focused technological structures in place to facilitate eLearning. This was largely attributable to the fact that few staff were available with the necessary time, technical, and computer programming knowledge required to create such an infrastructure.
Upon recruiting a librarian to play a key role in developing content for distance education and remote learners, one of the primary goals involved creating online learning opportunities in ways that emphasized both the cognitive and social dimensions involved in learning at a distance. The proposed creation of learning objects would utilize some readily available as well as more experimental synchronous and asynchronous information communication technologies. While creating interactive tutorials comprised one approach to developing content, it was felt that a key aspect of interactivity still needed to be addressed. An effort was made to investigate and utilize often freely-available tools such as blogs, wikis, podcasting and rss data and comment syndication to create a community of distributed yet connected and engaged distance learners.
This case study will outline the strategies employed and challenges encountered in developing instructional content for a library website with minimal technological support. With limited resources available, the 'do-it-yourself' approach was adopted. Lessons learned will be reported with advice for information professionals seeking to develop content for distributed learners.
Posted at 9:06 AM| Permalink
March 8, 2005
Get ready for Access 2005!
I had such a great time at Access 2004 this past October in Halifax that I'll beg, borrow and steal (okay, maybe not steal) to get myself to Access 2005. This year the conference is being hosted by the University of Alberta in Edmonton from October 17th - 19th. This is one of the best and most interesting library & technology conferences out there. Plus I'll get to:

Stay on top of the latest news and announcements by subscribing to the Access 2005 RSS feed.
See you there!
Posted at 10:57 PM| Permalink
November 2, 2004
Access 2004 Conference: a brief report
I had the opportunity to Attend the Access 2004: Beyond Buzzwords conference in Halifax, Nova Scotia from October 13-16. If you haven't heard of the Access Conference before, it's probably because it's relatively new (I believe this was the 10th), and it's a Canadian conference for library geeks techies. This year, however, there was a huge contingent of folks from the US and even some from the UK and Brussels.
Access is unlike many library conferences in that it is highly technical, and probably about half of the attendees are not 'librarians,' per se, but people working in technical services within libraries (programmers, etc). One of the big draws at Access is Hackfest, which is a kind of preconference that has gained somewhat of a cult following. The idea is to design, program, and even deploy a concept or prototype that is submitted to the Hackfest organizers in advance. I attended and worked with the team that developed a script to scrape TOCs from electronic journals.
The presentations were exceptional, but unfortunately, Clifford Lynch, the keynote speaker scheduled on the last day of the conference, was unable to make it in to Halifax from Boston because of fog (in both places!) All of the presentations are available on the speakers page. Some of the notable presentations were:
Posted at 3:38 PM| Permalink